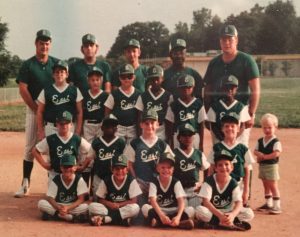 We lost a true Keeper of The Game last week. Dennis Carl "D.C." Viars (pictured, top right) passed away on Aug. 14 at the age of 70. We asked his son and one of our foundation's biggest supporters, Billy Viars, to share a little about his dad:
"Dad coached both my brother, Andy, and myself from ages 8-15. He spent years working with teams even after we had finished playing for him. Along the way, he helped build ball fields and established Little League Baseball in the East Iredell, N.C., community. He went on to serve on the board for the local Babe Ruth League and helped build two fields there, as well. Before us, he worked with the American Legion program and the Statesville Owls – an old minor league team. He touched hundreds of lives along the way and helped boys grow into men. It was not uncommon to find him and my mom at a ball field even over the last several years just watching games. He loved to watch youth baseball and talk to the kids and their parents about what they should enjoy and learn.
Outside of baseball, he was a pillar in the community. He served as Lay Leader at New Salem (N.C.) United Methodist Church and was active with their men's club.  He was also president of the Student Teacher Parent Association at East Iredell Elementary. If you wanted to find my dad, all you had to do was look where there was a need for someone to help kids and community – he was always there.
Perhaps the biggest thing I remember him saying on the ballfield is that he didn't believe in mistakes – only lessons. If you did it wrong, it was simply a chance to learn from it so that we didn't do it again. Mistakes (errors) only occurred when you continued to do something wrong instead of learning from it. He always encouraged players to "go for it" without worrying about the outcome. He also ended every player conversation on a positive note, no matter the score. "Always have a positive takeaway to build from," he said.
One final note about baseball is that he was very committed to family, and he made sure my mom was always there and always involved. She caught a lot of throws as I returned ground balls across the field, and he made sure that we thanked her and were gracious for her help. He made it a family affair, and we all loved it.
He spent 27 years officiating high school football with a large part of that also including middle school games during the week. He also spent several years officiating high school baseball and basketball. All of those games allowed him to stay close to youth sports and further stay involved with the coaches and kids that competed.
Our family requests that memorials be made to the Keeper of The Game Foundation, a nonprofit that provides kids and young adults with special needs and disabilities unique baseball experiences. Memorial donations can be made here."