Get stocked up with Keeper of The Game Foundation gear and show your support!
The items listed below are in stock (we also have T-shirts in different sizes/colors). Free shipping is included. Email info@keeperofthegame.org with your order, as well as any questions, and you will receive payment instructions.
Proceeds benefit kids and young adults with special needs and disabilities in and around the game of baseball. Thank you for being a Keeper!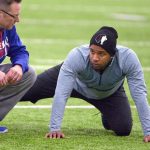 Beanie ($18)
Colors: Black
Sizes: OSFA

Bracelets ($2)
Color: Black
Sizes: Adult, Youth