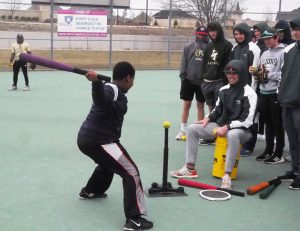 FRISCO, Texas – The Keeper of The Game Foundation hosted its fourth annual Spring Clinic at The Miracle League of Frisco on March 30 at Bacchus Community Park. The event featured nearly 20 athletes and more than 60 volunteers on a cold and windy day.
A special thank you goes to baseball players and coaches from Frisco High School, Lebanon Trail High School, Reedy High School, and softball players and coaches from the Texas Blaze NTX 2023 Premier squad for their valuable help and providing so many smiles.
We appreciate everyone who joined us. You are all KEEPERS!
To see a photo gallery, click here.