Make a Donation to Keeper of The Game
Donating online is a simple and tremendous way to help provide unique baseball experiences for kids and young adults with special needs and disabilities. To do so, simply click the "Donate" button below. You may also choose specific programming you would like your funds to be used for.
We are a 501(c)3 designated non-profit organization. Please see if your employer matches gifts for 501(c)3 non-profits.
Thank you in advance for your support, and thank you for being a Keeper of The Game!
Gold Keeper – $1000+
Silver Keeper – $500+
Bronze Keeper – $100+
Joey Gallo Autographed Baseball Card Special – $25+
Keeper – $5+
To make an online donation, select a value from the menu below.

*****JOEY GALLO AUTOGRAPHED BASEBALL CARD SPECIAL*****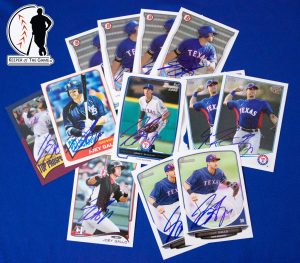 Texas Rangers slugger Joey Gallo, who has hit 11 home runs in his last 18 games – including one that cleared Greene's Hill and landed on the roof of the Hyundai Club in center field at Globe Life Park – signed a dozen baseball cards for us. Want one? All you have to do is make a donation of $25 or more to Keeper of The Game.
To get your autographed Gallo card, donate above and include your shipping address. Email us at info@keeperofthegame.org with any questions.
Did we mention he already has 32 home runs this season?!
Offer good while supplies lasts. Thanks to you and Joey for the support!