Keeper of The Game
"The mission of Keeper of The Game is to provide kids and young adults with special needs and disabilities unique baseball experiences that foster the growth of those individuals and their love of baseball. Keeper of The Game promotes programs that allow these athletes to play, watch and experience baseball at a very personal level. This is all done with a focus on advancing servant leadership."
---
Lio Ortega is not your average four-year old. He has fought battles you would not wish on anyone.
Just before Lio was two and a half years old, he started having awful headaches. This led the Ortega family to Children's Hospital Colorado in Aurora, Colo., where it was determined that Lio had two brain tumors behind his left ear. Between surgeries and chemotherapy, he spent most of the next six months in the hospital.
Between chemo sessions in May of 2016, Lio was feeling well enough to go to Falcon Field in Colorado Springs to see the University of New Mexico play Air Force in baseball. Lio's dad, Fred, played for UNM baseball head coach Ray Birmingham at New Mexico Junior College. Lio got to meet Coach Birmingham and the entire UNM team after the game. An instant bond was formed. The team was inspired by Lio, and he found hope in himself by rooting for the Lobos.
UNM went on to win the Mountain West Conference. The Lobos sent Lio a signed conference championship T-shirt, batting gloves, caps and the most prized possession – a UNM batting helmet. Lio was rarely seen without the oversized helmet on.
In the summer of 2016, Coach Birmingham told Keeper of The Game Foundation Founder James Vilade about Lio's story. Keeper of The Game was honored to send Lio and his family to a Colorado Rockies game decked out in Keeper gear.
In April of 2017, Coach Birmingham welcomed the Ortega family to Albuquerque, N.M., to have Lio throw out the first pitch of their series against Fresno State. Later that month, Lio played in his first T-ball game. He had made a fantastic recovery.
However, Lio's summer of 2017 was going great until a regular quarterly MRI discovered an irregularity. This led to another MRI in July and another surgery from the spot where they removed the larger of the two tumors. The past three months have been filled with regular radiation treatments and now Lio is undergoing eight months of chemo treatments.
Please keep Lio and his family in your thoughts and prayers as the strong little guy fights the fight again. He is a Keeper and an inspiration to many.
To read a Albuquerque Journal articles about Lio, click here and here. To visit Lio's GoFundMe page, click here.
-Story by Bryan Hoctor



KEEPER OF THE GAME GEAR!

Do you want some Keeper of The Game gear, such as T-shirts, caps or bracelets? Check out what is in stock by clicking here.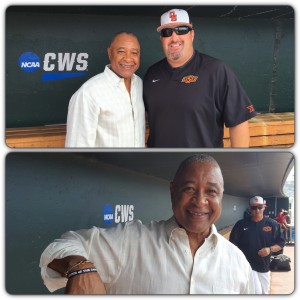 KEEPER OF THE GAME SPOTLIGHT:
Hall of Famer Ozzie Smith

Keeper of The Game Founder James Vilade introduced Hall of Fame shortstop Ozzie Smith to our foundation before Oklahoma State's opening game at the NCAA Men's College World Series in Omaha, Neb., on June 18. To see more pictures of current and former Major League Baseball players wearing KoTG gear, click here.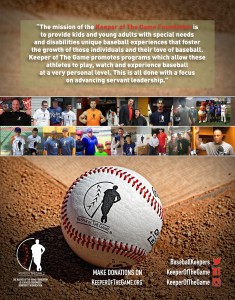 BE A KEEPER OF THE GAME

Donating online is a simple way to help provide unique baseball experiences for kids and young adults with special needs and disabilities. If desired, you may choose specific programming for your funds to be used for. We are a 501(c)3 designated non-profit organization. To make a donation to Keeper of The Game, click here.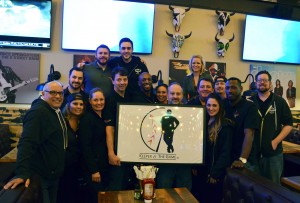 Keeper of The Game would like to sincerely thank Rock & Brews in The Colony (Texas) for hosting our foundation for its soft-opening charity night on March 11, 2016. The event completely sold out. A huge thank you also goes to all our supporters for helping make this one of our biggest fundraisers. To see a photo gallery of the event, click here.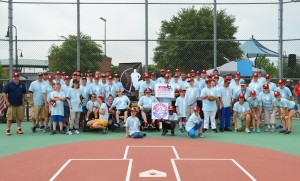 Keeper of The Game was thrilled to partner with the College Sports Information Directors of America for their #CoSIDA16 community service event with The Miracle League of Frisco on June 14, 2016 in Frisco. To see a photo gallery, click here. To see a video, click here.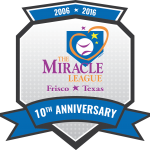 Keeper of The Game is a proud supporter of The Miracle League of Frisco. Recently, Keeper of The Game purchased three new wheelchairs for The Miracle League of Frisco. To learn more, click here.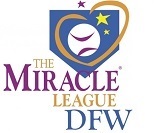 Keeper of The Game is a proud supporter of The Miracle League of DFW. Each year Keeper of The Game assists The Miracle League of DFW by providing specialty baseballs and equipment to athletes. To learn more, click here.
SOCIAL KEEPERS
You can also keep up with Keeper of The Game on Facebook, Twitter and Instagram. Make sure to tag us and always use the hashtag: #keeperofthegame. Thank you for your support!